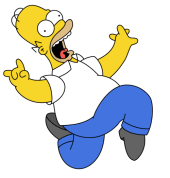 With a 5-1 victory over the Oilers, the Avalanche moved atop the Northwest division tonight. Of course the Thrashers defeating the Flames after being down 3-0 helped. Oh, and New Jersey beat Minnesota in a shootout. And just for kicks, it looks like Phoenix is going to crunch the Canucks.
Seriously, the Avalanche have recently pleased the hockey gods as last night and tonight could not have gone any better for this team.
Is anyone missing a goat?