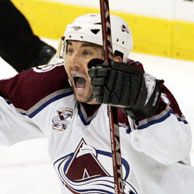 (CBC.ca)
We all knew it was coming but Andrew Brunette is an Avalanche no more. Brunette has
rejoined his former team
the Minnesota Wild.
With the new wide-open offensive style that Giguere and Granato want to run with, Brunette was no longer a fit for the team.
Good luck, Bruno. We'll miss you.
EDIT: Apparently he's looking over the contract but is expected to sign.
EDIT 2: TSN is now reporting it which I consider to mean it's done as they typically don't report unless it's 100% confirmed.
EDIT 3: Per TSN, it's a 3-year, $7M deal. Congrats Bruno!
Related Links
Russo's Rants Free Agent Frenzy Page