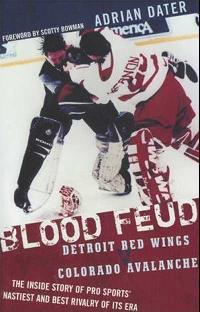 Break out your copy of Tomb Raider, slip on the Doc Martens and crank up the Pearl Jam. That's right, it's retro time!
The Colorado Avalanche are set to face the Detroit Red Wings in the Western Conference Semi-finals in the NHL playoffs. And predictably we've been subjected to many lame quips - such as the one above - due to the history between these two clubs.
And if you don't know the history, you might want to pick up Adrian Dater's book
Blood Feud
. And I'd also hope that you're a new fan to the game otherwise I'd ask what rock you've been under for the last few years.
History is just that...or is it?
However those days are long past and I much prefer to look to the future than to look to the past. I mean really, what does the series history between these teams mean to this series? Not a hell of a lot in my eyes.
Joe Sakic, however, begs to differ:
"I know the guys who were around for that time, we're definitely excited. We can feel it. You know the buzz around the whole city is there," said Sakic.
There are 12 players - 4 for the Avalanche and 8 for the Red Wings - still with a bittersweet taste left in their mouths from the rivalry. Well, Draper certainly still has the taste of something in his mouth still.
So it is entirely possible that the previous feud will ignite a passion in some of the older players that may not have been there if the Avalanche had ended up facing the Sharks and the Wings had to duke it out with the Stars.
Regular season routing
During the regular season, the Red Wings put a beating on the Lake Erie Monsters. The Wings shut them out on three separate occasions and also posted a 4-2 win late in December.
Avalanche fans can take solace in the fact that the squads iced by the Avalanche during those games were far different than the current squad.
Adam Foote, Ruslan Salei and Peter Forsberg were obviously not in an Avalanche uniform for those games, Joe Sakic has not played a game against the Red Wings this season, Paul Stastny and Ryan Smyth have only been in the lineup twice and Karlis Skrastins was in the lineup for all 4 games.
That's a pretty significant boost. The team is stronger, tougher and more experienced than they were a couple months ago.
But how do they match up against a strong Red Wings team?
Offensive Output
The Avalanche need to fend off the first wave from Datsyuk and Zetterberg while keeping an eye out for the second wave from Hudler and Franzen.
Combine that with Lidstrom and Rafalski on the back end - and Tomas Holmstrom's back end - and there is plenty of offensive firepower to keep an eye on.
On the flip side, Osgood will need to be wary of crash-and-bang players like Ben Guite, David Jones and Ryan Smyth.
Jordan Leopold and Ruslan Salei have stepped up on the back end for the Avalanche and have provided some much needed points from the point.
Defensive destruction
Deadline day acquisitions Adam Foote and Ruslan Salei have been dynamite for the Avalanche. Foote shut down Gaborik and anchored down a shaky defensive squad. Ruslan Salei plays on the PP and PK and has stepped it up physically. I don't think I could ask for more from either of those players.
Scott Hannan has become invisible which is exactly the way I like him. If I'm not noticing him that much, then he's not making mistakes. I invariably expect a defenceman to do his job so when he does, I tend not to make mention of it.
Frankly it's because I spent so much time being defensively responsible during my hockey playing days that I simply expect it. If I could do it, I think an NHLer should be able to do it.
The Red Wings squad is led by Nik Lidstrom, supported by Brian Rafalski
Goaltending gonads
Yes, I used the word gonads. Mainly because I drew a blank while trying to think of a "G" word to go with goaltending.
Jose Theodore was brilliant down the stretch and turned it up a notch in the playoffs, as he has done in the past.
At the other end, Chris Osgood has taken over the reigns after Hasek let in one too many long shots for coach Mike Babcock's lightning.
So you've got a resurging young goaltender battling it out with a resurging veteran. Can youth trump experience? I like to think so.
And make no bones about it, if the Avalanche are to win this series, they are going to require Jose Theodore to be no less than bloody brilliant in every game.
Coaching quarrel
Mike Babcock is an excellent coach. Joel Quenneville has been an above average coach thus far in the playoffs.
If Q wants to outcoach Babcock, he's got to stay simple. Don't screw with the lines after a loss and have your players know their roles.
During the Minnesota series, as soon as Gaborik set foot on the ice, Foote was already up and ready to hop over the boards without being told.
Having your players think on their feet certainly keeps the game interesting, but if they can settle into a routine, that helps them concentrate on their matchup much more effectively.
Oh, and don't pull a Keenan and yank Theodore while down 4-2 in a game 7. Just don't.
Stats breakdown
This will be quick and dirty as stats aren't my forte.
So after one round of playoff action, the basic stats are a draw for these two teams. The special teams game and shots for/against per game show something to keep an eye on.
The Wings are firing off 40 shots per game and the Avalanche are allowing 33. I don't expect the Wings to be able to get off 40 per game against the Avalanche like they did with Nashville but even 30-35 shots from this team is a lot of rubber for Theodore to be handling every night.
And in a shocking turn of events, the Avalanche powerplay is nearly doubling the output of the Red Wings powerplay. That will even out a bit as the series wears on. You can see that the Wings are killing penalties with over 90% efficiency so don't expect a 20% effective Avalanche powerplay.
With Tomas Holmstrom in one crease and Ryan Smyth in the other, it should be an interesting special teams battle. Hopefully the ride the Avalanche's PP squad is on won't end any time soon.
Final words
I don't do series predictions but if I had to go with my gut, I would say Wings in 6. If I go with my heart, I would say Avs in 5. You know, one token win so Wings fans don't feel too bad.
Now go ahead and prove me wrong, Avalanche.
Final final words
To good not to put up, I came across this image on Google Image search. The site shown in the image hasn't been updated in a while but nonetheless: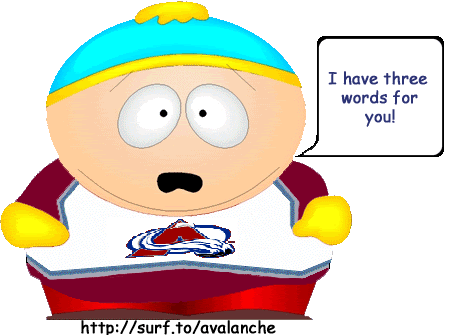 Related Links
Avs Blogger Previews Rounded up by Tapeleg
ColoradoAvalanche.com Series Preview
Denver Post Series Preview
TSN Series Preview
ESPN.com Series Preview
The Hockey News Series Preview
ColoradoAvalanche.com Practice Report
Full Semi-Final Schedule
Rival Blogs
On the Wings Blog
Abel2Yzerman
Japer's Detroit blog roll