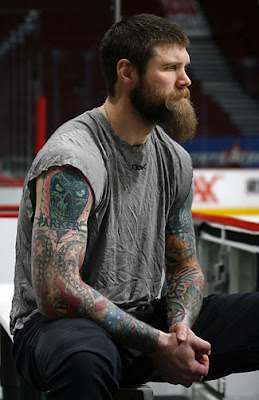 (Jeff Vinnick/Getty Images)
Phew! I'm going to be at an event most of the day tomorrow and it's late now but I had to get something up. Even if it's just to say "Wooo!!!!"
Ok, I'll say a bit more. After the Canucks went up by one late in the third on a reviewed goal that barely crossed the line, the Avalanche then tied the game at 2 with just 15 seconds left in the third period. Ruslan Salei displayed superb composure keeping the puck in the zone then fired it at the net where Joe Sakic banged home the rebound.
OT solved nothing and it was off to a shootout where both Joe Sakic and Marek Svatos, not the Avalanche's best SO performers, beat Roberto Luongo and Jose Theodore went 2-2 to bring home a huge
W
.
And given that Nashville got clobbered 8-4 by Buffalo, that means the Avalanche are back in a playoff spot as they now hold down the 8th seed in the Western conference. Who'd a thunk it?
So in conclusion, Adam Foote = warrior, Jose Theodore = superb, Scott Parker = scary, Darwin Head = millionaire and Joe Sakic = Joe Sakic (ie. god)