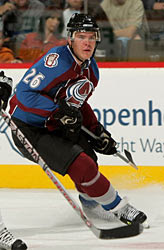 (Getty Images)
Some didn't think it could be done but all signs are pointing to Paul Stastny improving on his amazing rookie campaign from 06/07. During his rookie year he put up 78 points and broke the league point-streak record for a rookie with points in 20 consecutive games. Those are numbers that would have "Calder Trophy" written all over them in many years. Evgeni Malkin eventually took home the hardware but Paul Stastny took home the hearts of every Avalanche fan across the globe.
After enduring a stellar rookie campaign from Marek Svatos in 05/06 followed by a less-then-ideal season from Svatos the following year, fans were cautious about being optimistic with Stastny. In fact, the "sophomore slump" was bandied about as if it was given. How wrong they were.
So far this season, Stastny has scored a hat-trick, put up a five-point night, is atop the league lead in scoring, tied for the league lead in goals, tied for the league lead in +/- and is converting on 67% of his shots. Of course, it's only 3 games in and projecting his stats across the board is something that will not happen.
If you were to go by just the stats, then yes, you'd be crazy to think he can keep up this pace. But if you watch the games and see the way he plays, you'd be crazy not to think he'll easily surpass his totals from last year. He is not a flashy player but he is in the right place at the right time, he seems to click with any linemate they set him up with and he has excellent defensive presence to go with his offense. And he's missing two front teeth. He's a hockey player's hockey player.
Always a humble man, Stastny had the following to say about the big win against the Sharks last night in a game which saw him score 1 goal and add 4 helpers:
"It was more of a big win against one of the top teams in the West the last couple of years, and this year too,"

Joel Quenneville had a more succinct opinion in favor of Stastny:
"Tonight, he was special,"
I'm not sure if he's aware but Son of Stastny has thousands of man-crushes directed at him right now.
Related Links
Stastny Love from Dear Lord Stanley
Tapeleg Wakes Up, Rolls Over, Sees Paul Stastny
Stastny Heads NHL Three-Stars of the Week
Jes Golbez - Under the Radar Stars: Paul Stastny
Shawn P. Roarke - Paul Stastny Carves Out His Own Niche