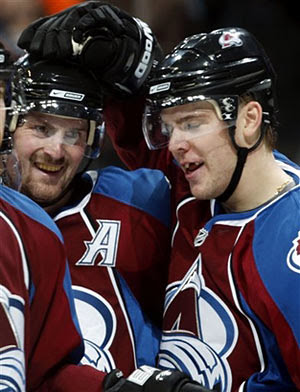 (AP Photo/David Zalubowski)
That was an insane game! With a 6-2 lead heading into the third, the Avalanche came away with a 9-5 win. There were 2 goals scored in the 1st and 6 goals scored in both the 2nd and 3 periods in what was the highest scoring game in the NHL this season.
I had a brief heart attack when the Blues made it 6-4 inside the first two minutes of the third period. Thankfully Q called a timeout and told the team to relax and keep playing their game which they did. Hey, maybe they started
listening to the coach
.
Since there was so much action in this game, my description of the game could either be brief to keep from rambling...or end up being the longest post I've ever written. Let's find out!
First Period
The Avs got the first powerplay of the game as Ryan Johnson, one of the 3 Johnson's the Blues have, took a hooking penalty. The Avs were moving the puck around much better and utilizing the point well. Kyle Cumiskey broke up the best chance of the game as he rushed back to stop a streaking Mayers who broke out after Smyth whiffed on the puck at the blueline.
Jay McClement got the Blues on the board first as Stempniak beat Tyler Arnason around the net and fired McClement a great cross crease pass. Theodore nearly had it but really had no chance on that one.
Ryan Smyth then put on a performance that made me exclaim "That's why the Avs signed you!" He forechecked hard, got the body on Backman and then fired a pass to Hejduk. Hejduk took a millisecond to corral it and fired it past Toivonen. Just a classic example of how to forecheck and get the puck away from your man.
Ben Guite got crunched shortly after by Backes. He got right back up, got back into the play, knocked Erik Johnson off the puck, took a crosscheck for his efforts, then helped ensure the puck got out of the zone. I loved it.
The period ends with the Blues on the PP.
Second Period
And the Avs finish killing off the penalty and started applying some pressure. Hejduk had a great chance to get his second of the game but couldn't get a hold of a feed from Smyth.
Ryan Johnson then took his second hooking penalty of the game and the Avs made him pay this time. Brett Clark took a shot from the top of the circle and Hejduk banged home the rebound. So I guess he made up for missing the Smyth feed earlier.
Just 42 seconds later Jay McClement busted out on a breakaway and I wasn't too worried. Skrastins hooked him from behind though and even though McClement got a shot off, the ref awarded him a penalty shot. So in goes McClement on Theodore who has been stellar in 1-on-1 confrontations. Unfortunately this time he was beaten on a beauty shot by McClement to tie the game.
Although I agree with Haynes that I like the call, I didn't realize that was a change made this year. Typically the rule for awarding a penalty shot was predicated on whether the player got a shot off or not.
But not to fear. A few minutes later Jaroslav Hlinka found himself with all kinds of time low on the side boards. He waited, waited, waited...then fired a rocket pass across the crease to Stastny who tipped it home. All the goals so far have been of the "No chance" variety.
Barely a minute and a half later, Wojtek Wolski starts putting the rout on as he bangs home a goal off of Brunette's hard work down low. Drive the net and you get rewarded!
On the bench after, Budaj was seen talking to Wolski and whatever he said caused Wolski to titter like a schoolgirl. Which in turn made me titter like a schoolgirl.
3 minutes later, Brett Clark trailed in behind a 2-on-1 with Stastny and Hejduk and again, driving to the net paid off. Stastny waited too long to pass to Hejduk but the puck bounced out in front and Clark was there to take advantage of it.
And if that wasn't enough, Smyth decided to again remind us why he was signed as he scored on a wraparound goal which was probably the weakest goal of the game but definitely not a bad goal. That gave Colorado the most 2nd period goals of any team in the NHL.
Third Period
The third period starts with a goaltender change. Oddly reminiscent of the Columbus game I thought. Toivonen played fine but 6 goals against would be enough to make me not want to play anymore too.
And holy crap, just 24 seconds in Doug Weight puts a rebound past Theodore. I never had a good angle on this one to see how the rebound came to be but I'll give Theodore the benefit of the doubt on it.
And exactly a minute after that David Perron circled the net and fired a shot past Theodore to make it a 2-goal game. And cause Avalanche fans everywhere to reach for the Maalox. It looked like that puck may have been redirected slightly but it was hard to tell for sure.
Quenneville wisely took a timeout to settle and gather the troops together. While this was happening, Hannu Toivonen was getting back into goal for the Blues. Which either means he had equipment troubles earlier - maybe he pulled a Luongo? - or Murray really likes to screw with his goaltenders. Sure, the Blues were back in in now but is Schwarz incapable of playing at the NHL level at this point or what?
The timeout did its job as the Avalanche settled down and kept playing their game. Stastny took a hit from behind to give the Avs their fourth powerplay. Wolski was not in the point for this one as Liles and Clark were out there. Shocking!
Ryan Smyth then displayed some excellent patience behind the net. And also displayed that the Blues D needs to help their goaltenders out. He had a year and a day to feed Paul Stastny who put it past Toivonen and Avalanche fans everywhere breathed a collective sigh of relief.
The Avs then got another powerplay chance on a hit from behind and again they made the Blues pay. Milan Hejduk netted the fifth hat trick of his career and chased Toivonen from the net once again.
A couple minutes later the Avalanche were on the PP again and got their third PPG of the game. T.J. Hensick fed Bruentte who then tipped it over to Wolski who buried it past Schwarz for a 9-4 lead.
The Blues got one final goal on the powerplay as Perron fed Stempniak a great cross ice pass and he buried it to bring the goal total to 14. I hope nobody took the Under on this game!
Notes
- Jose Theodore was in net for his second straight start
- Sakic and Laperriere were out with injury
- when Sakic is back, I want to see Arnason sit out some games
- St. Louis has (had?) the #1 PK in the league
- I again found myself yelling "SHOOT!" to Clark at a couple points in the game
- the #1 and #4 lines for the Avs were on fire again tonight and should not be broken up for anything
- Hannan is really jumping into the rush the last few games
- Hejduk had his 300th career assist and his 100 and 101st power play goals
- the Avalanche were only penalized 3 times as the continue to play disciplined hockey
- Stastny leaps into 6th place in scoring on his 2nd career 5-point night
- Richardson and Guite are a great PK combo
Stats

It was a balanced night in terms of ice-time. Liles (!?) led the way with 22:57 and Hannan was just behind with 22:18. Marek Svatos had the least time with just 9:56. The 4th line of McCormick, Guite and Richardson averaged 13 minutes. Not bad for an energy line.
Hejduk led the way in the points category with 6 (3g/3a), Stastny had 5 (2g/3a) and Smyth had 3 (1g/2a). Now that's some point production from the first line if I ever saw it. Wolski had a 2-goal game, Clark had a goal and assist, Liles had 2 assists as did Brunette and Hannan and Hlinka and Hensick each had one helper.
This was Brunette's 400th consecutive game which is 3rd in the league at the moment. Cory Sarish and Brendan Morrison lead the way. I can't recall their numbers but I want to say 481 for Sarich and 527 for Morrison. But maybe that's my old high school locker combinations.
And the ultimate stat on tonight...this was the franchise's 1,000th victory.
Related Links
NHL.com Event Summary
ColoradoAvalanche.com Recap
TSN.ca Recap
In the Cheap Seats Game Notes